Roasted Vegetable Frittata
This dish is a quick and easy way to get eggs and vegetables into kids. It's a vehicle for anything in season as well, so feel free to adjust the vegetable content to suit what you have. Don't be afraid of all the garlic, the roasting process eliminates the bitterness and makes it sweet and delicious, really boosting the flavour. And finally, don't be afraid to use up potatoes from other dishes here. Yesterday's roast potatoes, leftover wedges, as long as it is tender it will work.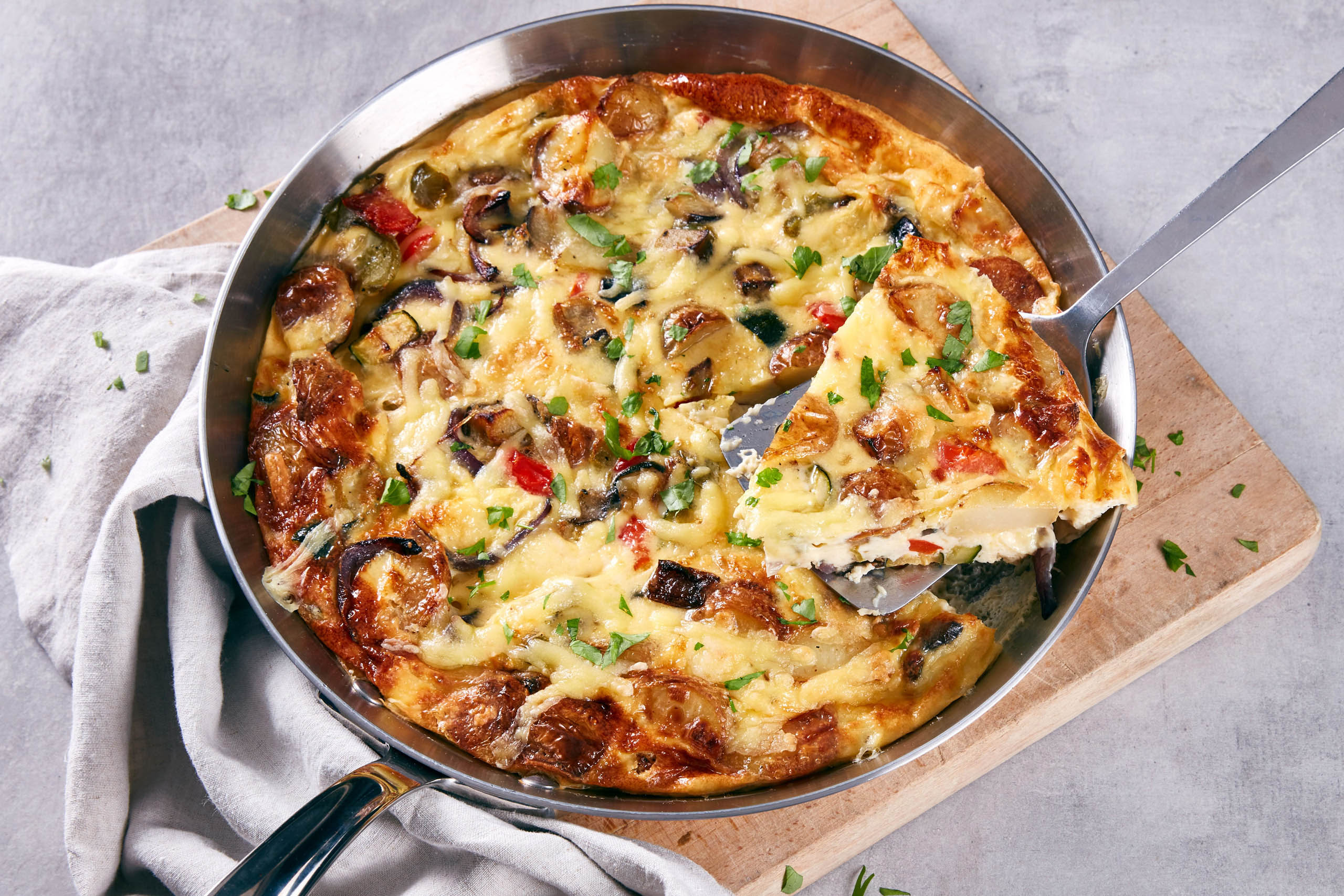 | PREP TIME: | COOKING TIME: | Serves |
| --- | --- | --- |
| 15 mins | 50 mins | 10 |
Ingredients
500g New potatoes
4 Mixed peppers, diced
2 Aubergines, diced
2 Red onions, sliced
2 Courgettes, diced
1 Garlic bulb
16 Eggs
Method
Boil the new potatoes in well-salted water until tender and refresh with cold water. Set aside.

Place peppers, aubergines, onions and courgettes on a tray and season well. Add a few chunks of Kerrymaid Premium Baking Block.

Wrap whole bulb of garlic in foil with a splash of water and add to the tray.

Roast in the centre of an oven preheated to 180°C for 20 minutes, stirring occasionally, until the veg is well roasted.

Remove the garlic from foil and carefully crush to release roasted garlic.

Mix the eggs and Kerrymaid Single and whisk. Season aggressively. Whisk in the roasted crushed garlic.

Slice the new potatoes onto a large tray. Add the roasted veg and some chunks of Kerrymaid Premium Baking Block.

Add Kerrymaid Grated White and mix with the veg and potatoes.

Pour over the Kerrymaid Single and egg mix and bake in an oven preheated to 180°C until the egg mix sets (approx. 15 mins, depending on equipment).

Add more Kerrymaid Grated White to the top of the frittata and grill for a cheesy crust.

Serve with fresh green salad.
---
TOP TIP FROM OUR CHEF
This dish is an excellent way to use up any old veg you have left over. Don't be afraid to mix it up a little!