Chocolate and Blood Orange Tart
Decadent and intense, this chocolate tart is elevated by the sweet acidity of blood orange cutting through the heavy creaminess of the chocolate filling. Perfect for serving in a restaurant or in a café, this tart is guaranteed to impress.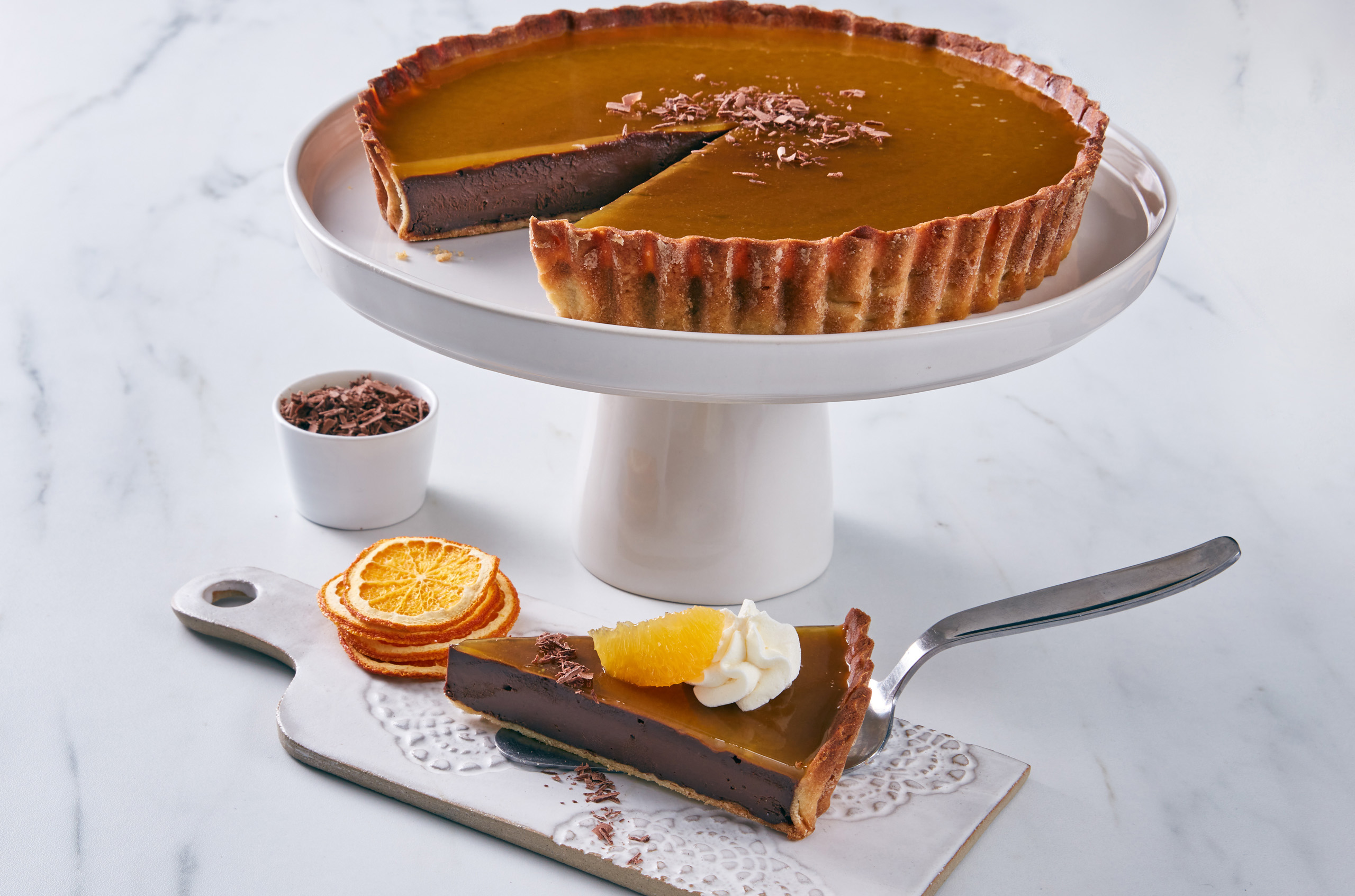 | PREP TIME: | COOKING TIME: | Serves |
| --- | --- | --- |
| 30 mins | 120 mins | 12 |
Ingredients
For the sweet pastry:
150g Plain flour, sifted
50g Icing sugar, sifted
1 Pinch of salt
1 Egg yolk


For the chocolate filling:
320g Dark chocolate, broken into chunks
130ml Milk
2 Eggs


For the blood orange jelly:
200ml Ravifruit Blood Orange purée, defrosted
50g Sugar
50g Glucose
8 Gold gelatine leaves
Method
Rub the flour and Kerrymaid Premium Baking Block together to form breadcrumbs, then add icing sugar, a pinch of salt and egg yolk. Mix to a dough, adding 1tbsp water if too dry. Shape into a disc, clingfilm and refrigerate for at least 30 mins before using.

Preheat an oven to 180°C degrees. Grease and flour a tart ring and roll out pastry. Line the ring carefully, ensuring no tears or holes. Blind bake until golden, then and trim edges even. Brush with egg wash and return to oven for 3 minutes to cook. Set aside.

Melt chocolate in a bain marie. Place Kerrymaid Double and milk into a pan and bring to a boil, then take off the heat and pour onto eggs, whisking continuously. Once combined, stir into the melted chocolate until smooth.

Place tart case on a tray in the oven, leaving the door open while you carefully pour the filling mix into the case. Gently slide into oven and bake for 10-15 minutes until just starting to set, then turn off the oven. Keep checking every 5 minutes or so until it has a 'just set' wobble, then remove from the oven and set aside.

Place the blood orange purée in a pan with the sugar and glucose and bring to just under a boil. In the meantime, bloom the gelatine in cold water. Once the blood orange mix is off the heat, add the gelatine and stir well until dissolved. Place in the fridge until beginning to set.

Place the tart on a flat shelf in the fridge. Carefully pour blood orange jelly over the tart to fill the case. Allow to set completely before slicing and serving.

Serve with rosettes of whipped Kerrymaid Double and blood orange segments.
---
TOP TIP FROM OUR CHEF
Try mixing up the jelly with whatever fruit is available. Works great with Plums, Raspberries or strawberries