Chicken and Ham Pie
This is a classic pie, but topping it off with mashed sweet potato gives it a fresh look, not to mention dodges using pastry! Feel free to add veg to the pie mix, in fact with just a few small tweaks this could be an outrageously delicious vegetarian option as well. If you are feeling fancy, you can add roasted vegetables to the mash topping, just fold them through after mashing together to give texture and even more flavour!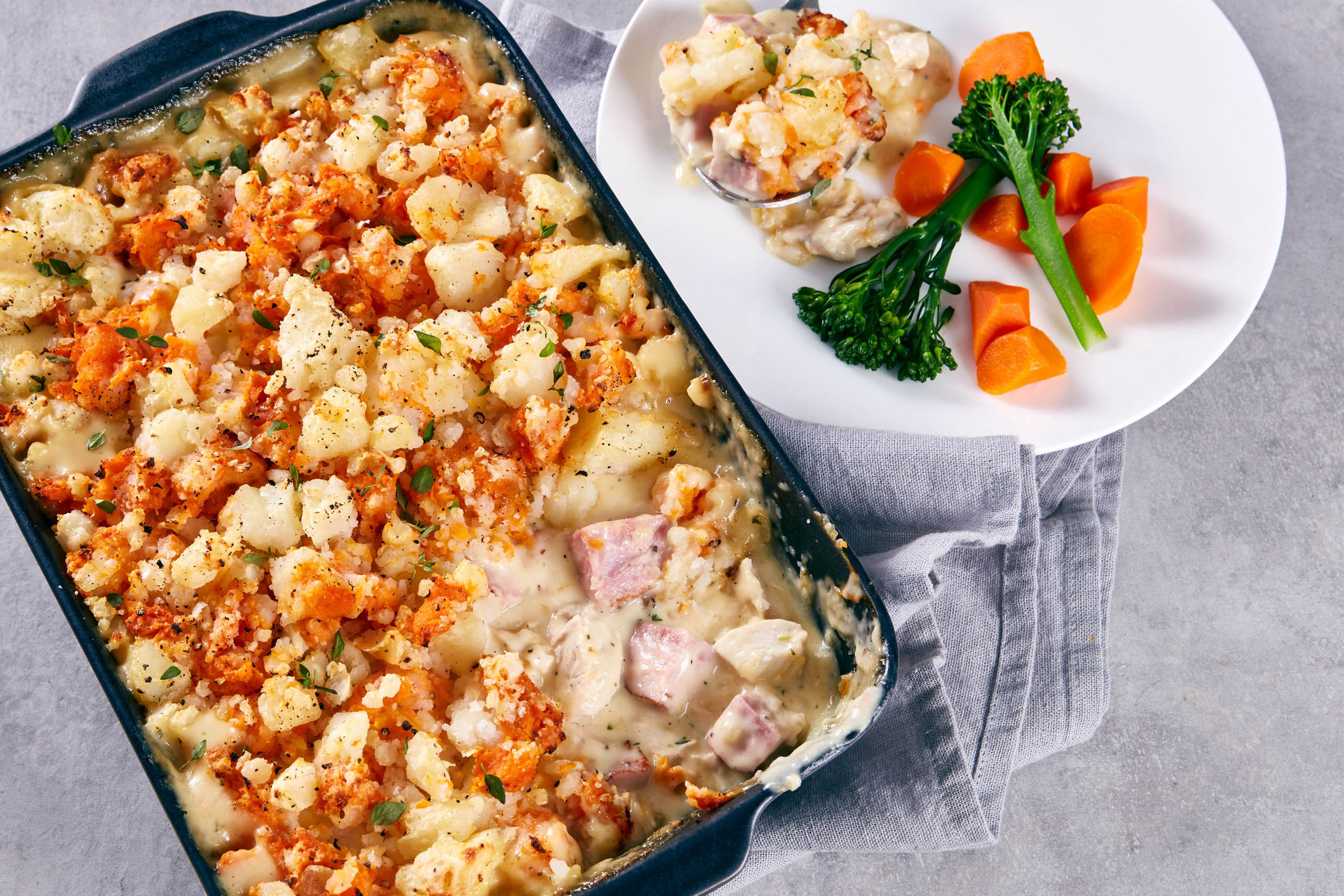 | PREP TIME: | COOKING TIME: | Serves |
| --- | --- | --- |
| 30 mins | 50 mins | 10 |
Ingredients
300g Ham
2 Onions, diced
6 Garlic cloves, crushed
1kg Chicken breast, diced
Splash of oil
800g Sweet potatoes
800g Red potatoes, peeled
Method
Place diced ham into heavy-bottomed pan with a drizzle of oil and cook on low until fat has rendered (add half a glass of water and cook off to speed the rendering if needed).

Add diced onion and garlic to the pan and sweat until translucent.

Add diced chicken and cook until coloured.

Pour over Kerrymaid Béchamel Sauce and stir well. Heat until chicken is cooked through then set aside.

Meanwhile, place sweet potatoes in the oven and roast until tender (approx. 15-20mins), meanwhile boil the red potatoes until tender and drain.

Peel the sweet potatoes and mash the sweet and red potatoes together. Check the seasoning and set aside.

Place the chicken and ham mix in a large ovenable tray and top with the mash. Drag a fork through the top and season with salt and pepper.

Bake in an oven preheated to 180°C until the mash is golden and slightly crunchy on top and the Béchamel is bubbling around the edges.

Serve with seasonal vegetables.
---
TOP TIP FROM OUR CHEF
Feel free to use cooked chicken or ham for this recipe, in fact it's an excellent way to make use of leftovers.