Roast Loin of Pork with Wild Mushroom Sauce
This restaurant-quality dish is deceptively simple, requiring few ingredients and not a huge amount of contact time. What it lacks in complication it more than makes up for in flavour and indulgence. Delicious succulent pork is complemented perfectly with the rich creamy mushroom sauce, all it needs is a few vegetables for a meal no one will forget in a hurry!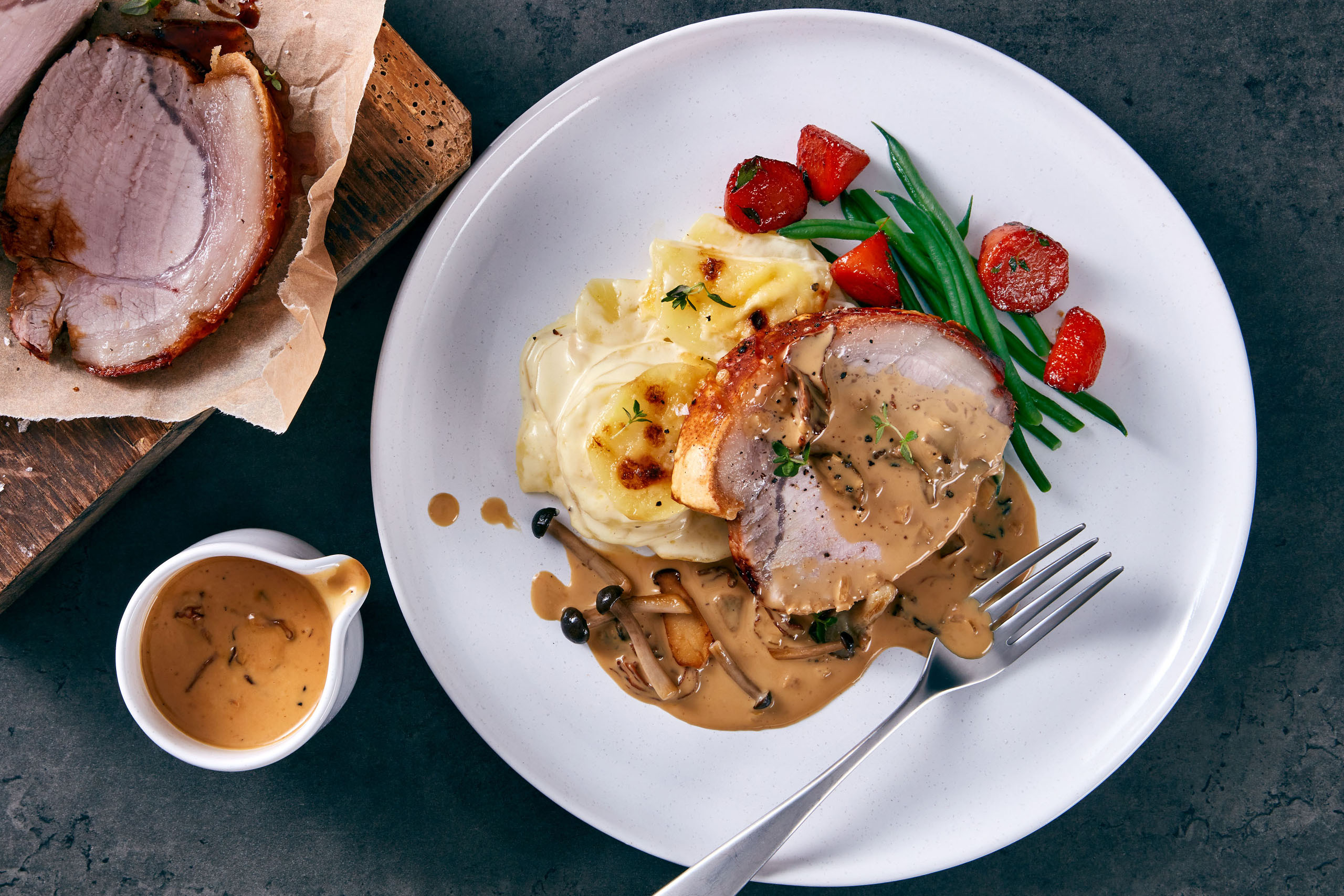 | PREP TIME: | COOKING TIME: | Serves |
| --- | --- | --- |
| 30 mins | 70 mins | 10 |
Ingredients
1.8kg Pork loin, skin off, fat cap still on
¼ bunch Rosemary, finely chopped
¼ bunch Sage, finely chopped
3 Garlic cloves, crushed
2 tsp Salt
2 Shallots, finely diced
90g Dried wild mushrooms
250ml White wine
400ml Chicken stock
1 Lemon, juiced
Method
Preheat oven to 220oC. Rub the pork with the herbs, crushed garlic and salt and place on a wire rack on a tray. Put in the oven for 15 minutes, then turn oven down to 160oC and cook for 50-70 minutes until safe core temperature is reached.

Meanwhile, place dried mushrooms in a pan with the white wine and bring to the boil. Remove from the heat and allow to soak until cool (approximately 20 mins).

Strain off the wine and reserve the rehydrated mushrooms, squeezing as much liquid from them as possible.

Add chicken stock to wine and reduce by half over a high heat. Add Kerrymaid Double and reduce by half again, then set aside.

Add the Kerrymaid Buttery to a pan and fry the rehydrated mushrooms until golden. Deglaze with lemon juice, add to the sauce and check seasoning.

Slice the pork and serve with sauce spooned over.
---
TOP TIP FROM OUR CHEF
Use fresh mushrooms in the sauce and skip the hydration step. Pan-fry the mushrooms until golden and deglaze the pan with some of the wine.