Potato Gratin
A classic French side dish packed with flavour and calories. A perfect accompaniment to almost any main dish, bringing creamy indulgence to any meal. Keeps well and can be reheated as required, but for best results serve on the day of making, still warm from the oven.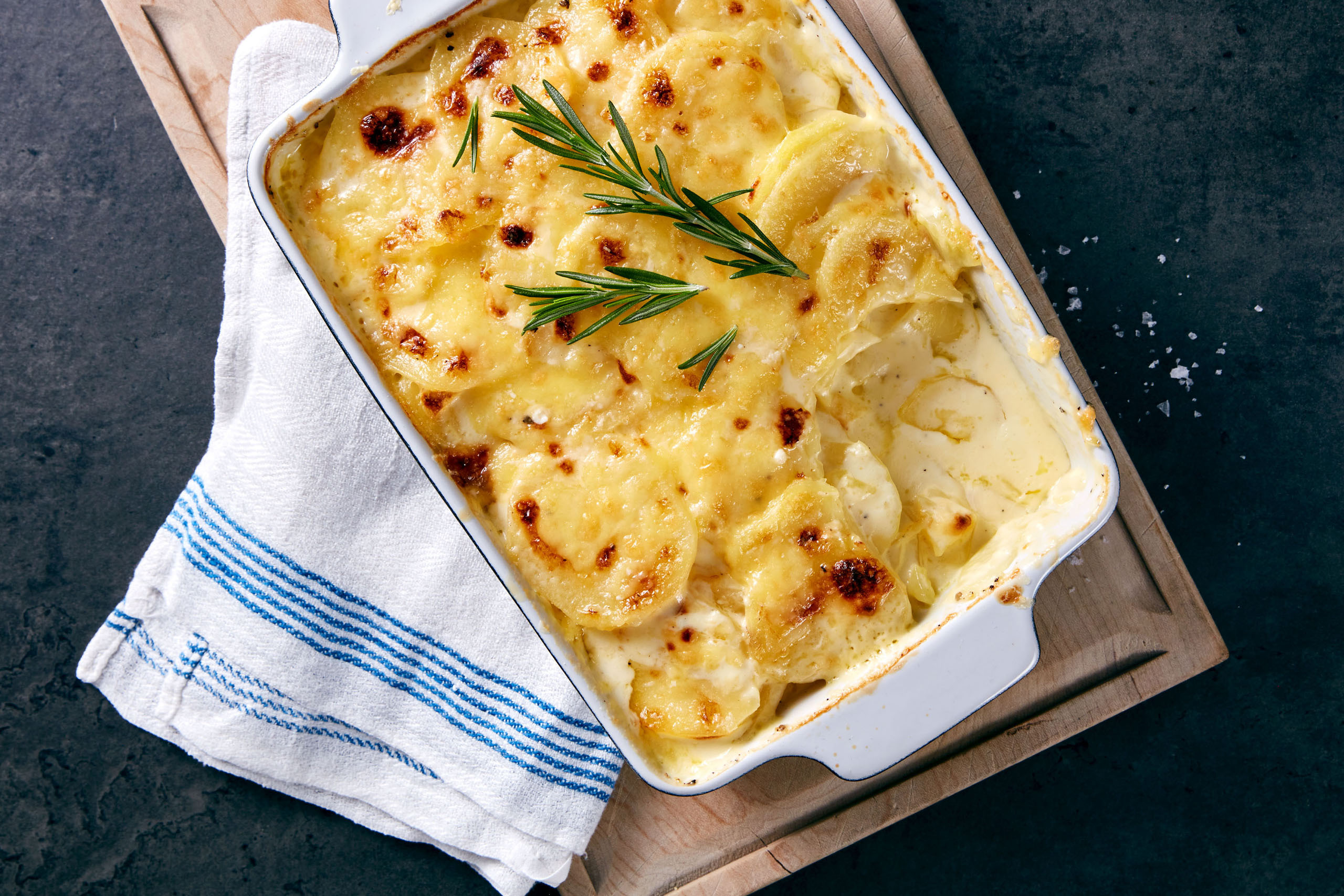 | PREP TIME: | COOKING TIME: | Serves |
| --- | --- | --- |
| 45 mins | 45 mins | 10 |
Ingredients
1kg Red potatoes
300ml Milk
3 Garlic cloves, peeled and crushed
4 Sprigs thyme
Salt and pepper
Method
Preheat oven to 160oC and rub the interior of a gratin dish with Kerrymaid Buttery until coated.

Peel and slice potatoes (approximately 2mm thick) and place on one clean tea towel and cover with another. Pat dry.

Place milk and Kerrymaid Double into a pan with the garlic cloves and 2 sprigs of thyme. Add the sliced potatoes and bring to a boil. Remove from the heat while the potatoes are still firm and set aside.

Carefully pass the milk and Kerrymaid Double mixture through a colander and remove the garlic and thyme. Set aside the cream and potatoes to keep warm.

Layer potatoes in the dish, slightly overlapping, until you have one complete layer. Season with salt and pepper and repeat until all the potatoes are used.

Pour over the cream mixture carefully, allowing it to sink through the layers and sit level with the potatoes.

Scatter over Kerrymaid Grated White and bake for 45 minutes until golden and tender. Leave to stand for 5 minutes before serving.
---
TOP TIP FROM OUR CHEF
Try adding sliced shallots or onions to the dish with the potatoes, or infusing other woody herbs such as rosemary.