Baked New York Cheesecake
Nothing beats the rich and creamy taste of a baked American-style cheesecake and you can recreate it with surprisingly little fuss. This is a versatile recipe that can be adjusted by mixing up the biscuits in the base or by adding chocolate, fruit or some spices.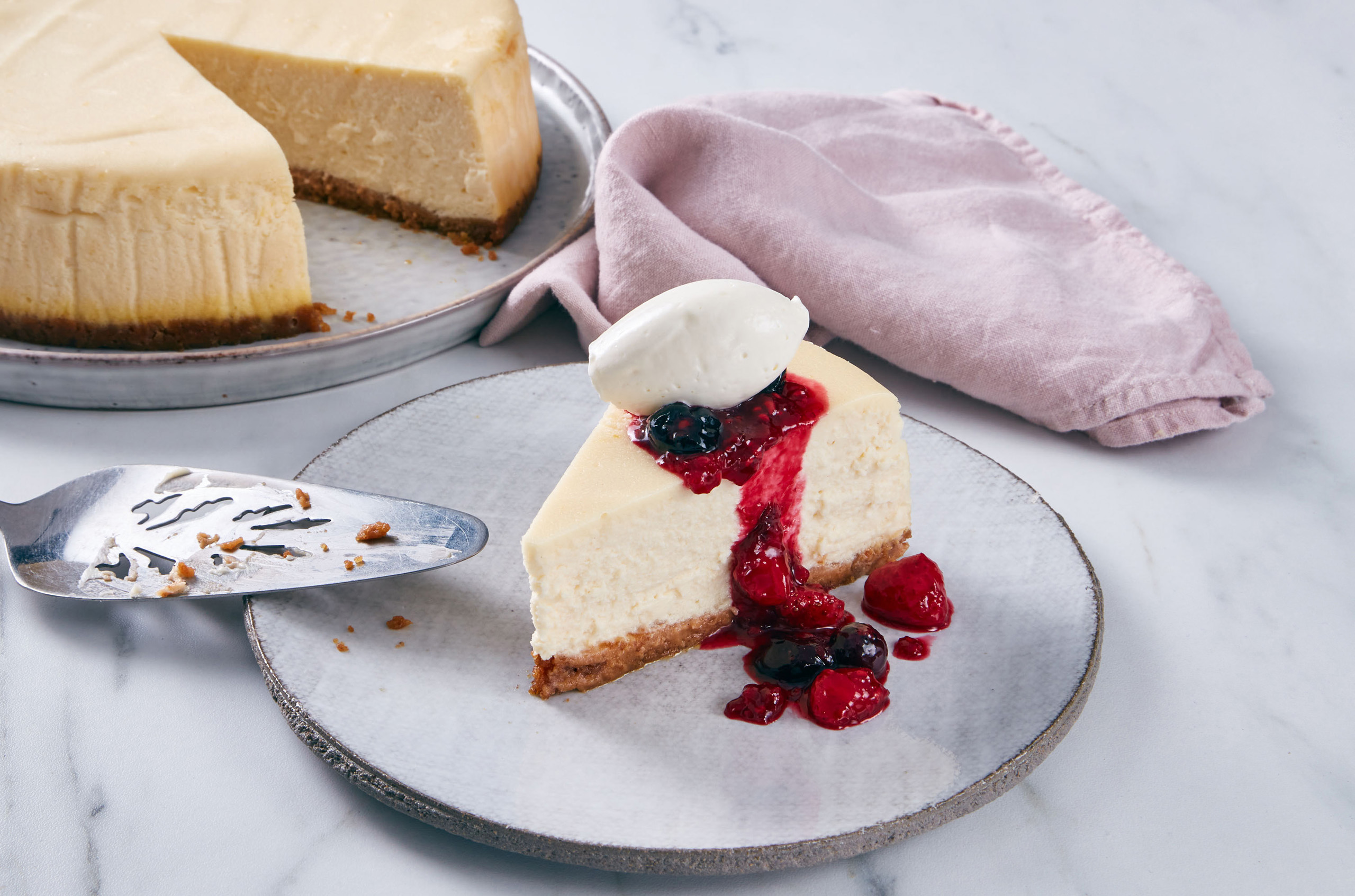 | PREP TIME: | COOKING TIME: | Serves |
| --- | --- | --- |
| 30 mins | 175 mins | 12 |
Ingredients
For the crust:
140g Digestive biscuits, crushed


For the filling:
950g Soft cheese
250g Golden caster sugar
3 tbsp Plain flour
1 Pinch of salt
1½ tsp Vanilla extract
2 Lemons, zested and juiced
3 Eggs
1 Egg yolk
Method
Grease and line a springform cheesecake tin. Mix the crushed biscuits and melted Kerrymaid Buttery and press into the base of the tin to form an even layer.

Preheat oven to 200°C. Beat soft cheese until creamy, then with the mixer on low, gradually add the sugar, flour and salt. Scrape down as required.

Add vanilla extract, lemon juice, lemon zest and continue to mix. Add eggs and yolk one at a time, scraping down as required. Add Kerrymaid Double and mix until smooth.

Pour filling into the tin and bake for 10 minutes, then reduce oven temperature to 110°C and bake for a further 45 minutes or until it has a 'just set' wobble. Turn off the oven, open the door and allow to cool for 2 hours.

Once the mix is in the tin, try dropping in fresh raspberries or blueberries. The moisture in the fruit could increase the cook time, so bear that in mind.
---
TOP TIP FROM OUR CHEF
Try dropping blueberries into the cake mix just before you bake for a delicious blueberry cheesecake (please note this may extend cooking time, so keep an eye on it!)