Detroit-Style Pepperoni Pizza
Another pizza variation from the cultural melting pot of America, this Detroit-style pizza bucks the circular trend and comes deep dish and rectangular. With the sauce and cheese baked into the edges, this pizza offers a far heartier bite than a standard base, and copious pepperoni is never a bad choice! Easy to make without a pizza oven, this offers another avenue into pizzas for smaller venues.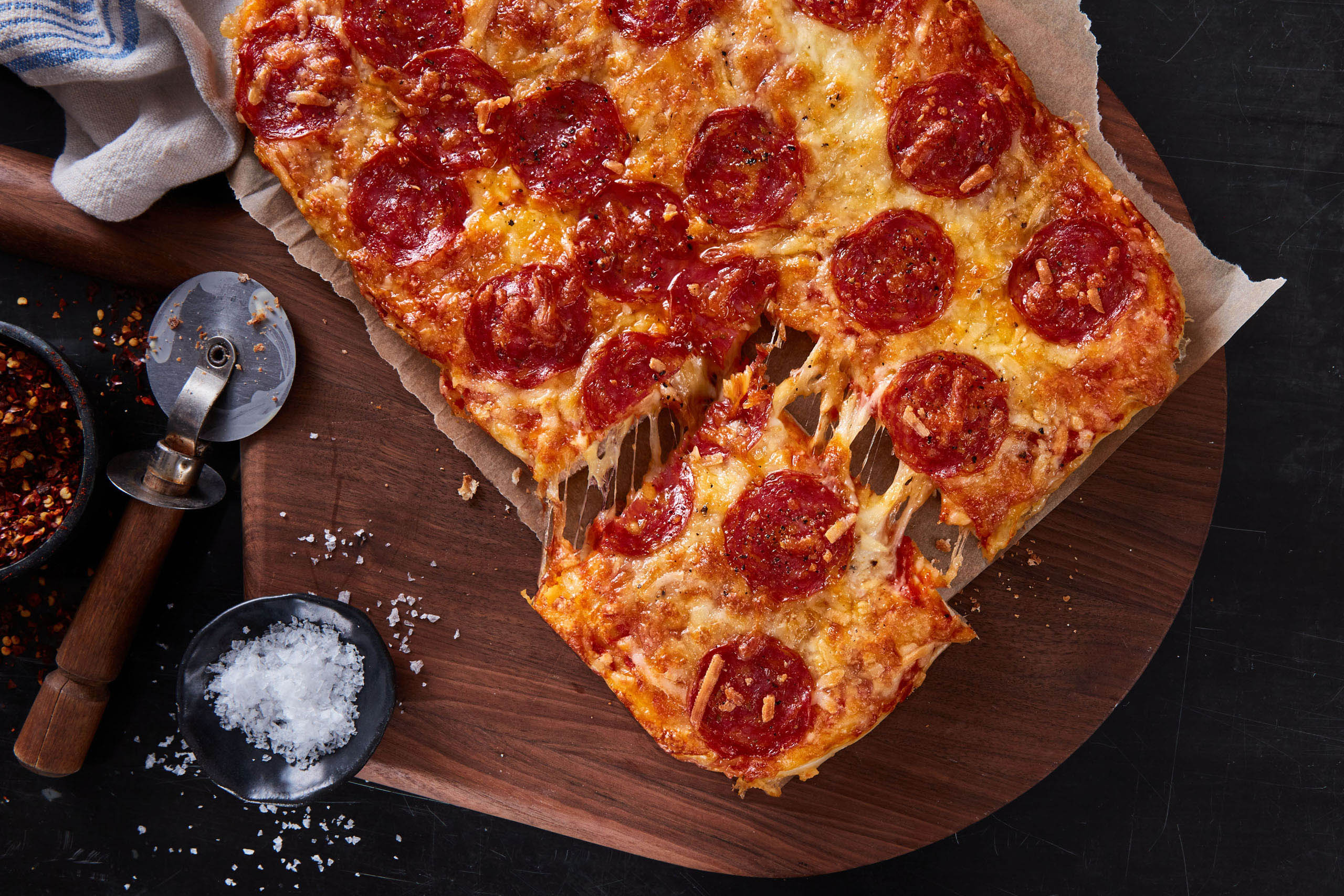 | PREP TIME: | COOKING TIME: | Serves |
| --- | --- | --- |
| 70 mins | 70 mins | |
Ingredients
For the dough:
2tsp Live yeast
230ml Water (warm, not hot)
500g Bread flour
Large pinch of salt
Splash of olive oil


For the topping:
200ml Pizza sauce
150g Pepperoni
Method
Preheat oven to 180°C. Add the yeast to the warm water and set aside. Mix flour and salt. Add water and yeast to salt and flour mix (a tabletop mixer is good here). Add a splash of olive oil and knead until a smooth dough.

Oil a 9×13-inch baking tray and place dough in the centre. Press lightly with fingers towards the corners. Cover lightly with cling film and repeat every 10 minutes or so until the dough is stretched to the corners, evenly flat-ish and not springing back. Leave in a warm place to rise for an hour (or until doubled).

Top base with sauce, Kerrymaid Pizza Grate and pepperoni, all the way to the edge. Be generous with the toppings!

Bake for approximately 15 minutes until golden and bubbly. If in doubt about how cooked the base is, turn off the oven and leave the pizza in for 10 more minutes.

Remove from tray, slice and serve.
---
TOP TIP FROM OUR CHEF
Pepperoni is the classic topping here, but feel free to mix it up with peppers, onions, bacon. Aim for American-style profiles and you can't go wrong.