Croque Madame
This bistro classic has slipped through the cracks somewhat in favour of its simpler cousin, the croque monsieur. The added indulgence of the egg and rich Mornay sauce transport the dish from a grab-and-go option to a decadent sit-down meal. Best enjoyed with some fresh skinny frites.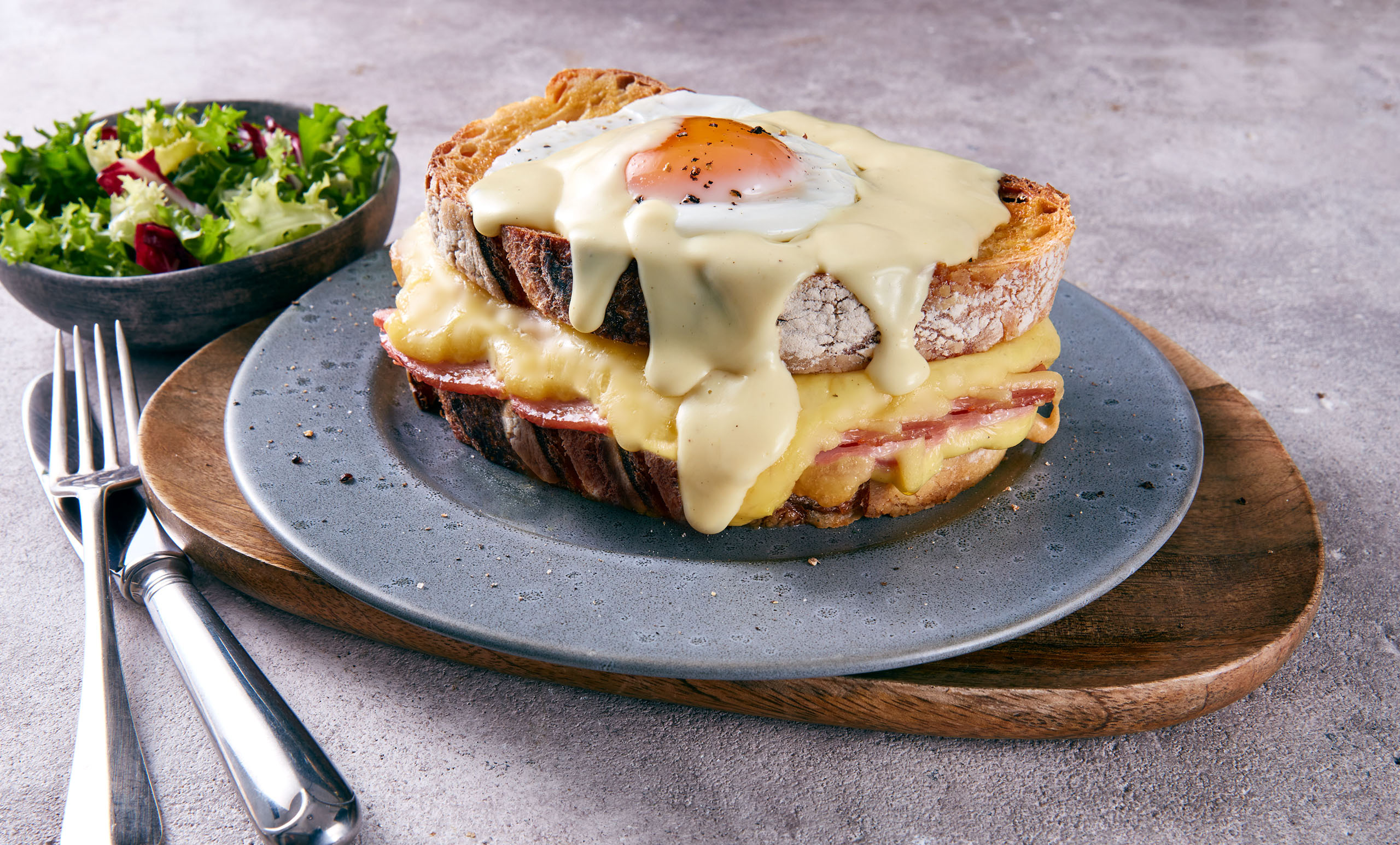 | PREP TIME: | COOKING TIME: | Serves |
| --- | --- | --- |
| 15 MINS | 10 MINS | 10 |
Ingredients
For the Mornay sauce:
2tsp English Mustard
Worcestershire sauce, splash
Salt and pepper


10 Thick slices white bread
200g Ham
5 Eggs
Method
To make the Mornay sauce, heat the Kerrymaid Béchamel in a pan and add the Kerrymaid Grated White, mustard and Worcestershire sauce and heat until smooth, stirring constantly. Taste and adjust seasoning. Set aside and keep warm.

Preheat oven to 160°C, and generously butter slices of white bread with Kerrymaid Buttery on both sides.

Smear Kerrymaid Béchamel on one side of all slices. Place ham and Kerrymaid Grated White on half of the slices. Top with the other slices, sauce side down.

Fry sandwiches in a pan until golden on each side, then place on a tray in the oven for 5-8 minutes, until Kerrymaid Grated White is fully melted.

Fry eggs to desired level of cooking.

Place sandwiches on the plate and top each one with an egg.

Ladle over Mornay sauce generously.
---
TOP TIP FROM OUR CHEF
Make the sandwiches ahead of time and spread Kerrymaid Buttery on the outside and wrap in the fridge. You can grab and fry as needed!