Creamy Shakshuka
Adding creamy richness to shakshuka takes this classic dish to new heights. Smeared generously on perfectly toasted sourdough, there are precious few other things that could challenge this king of brunch.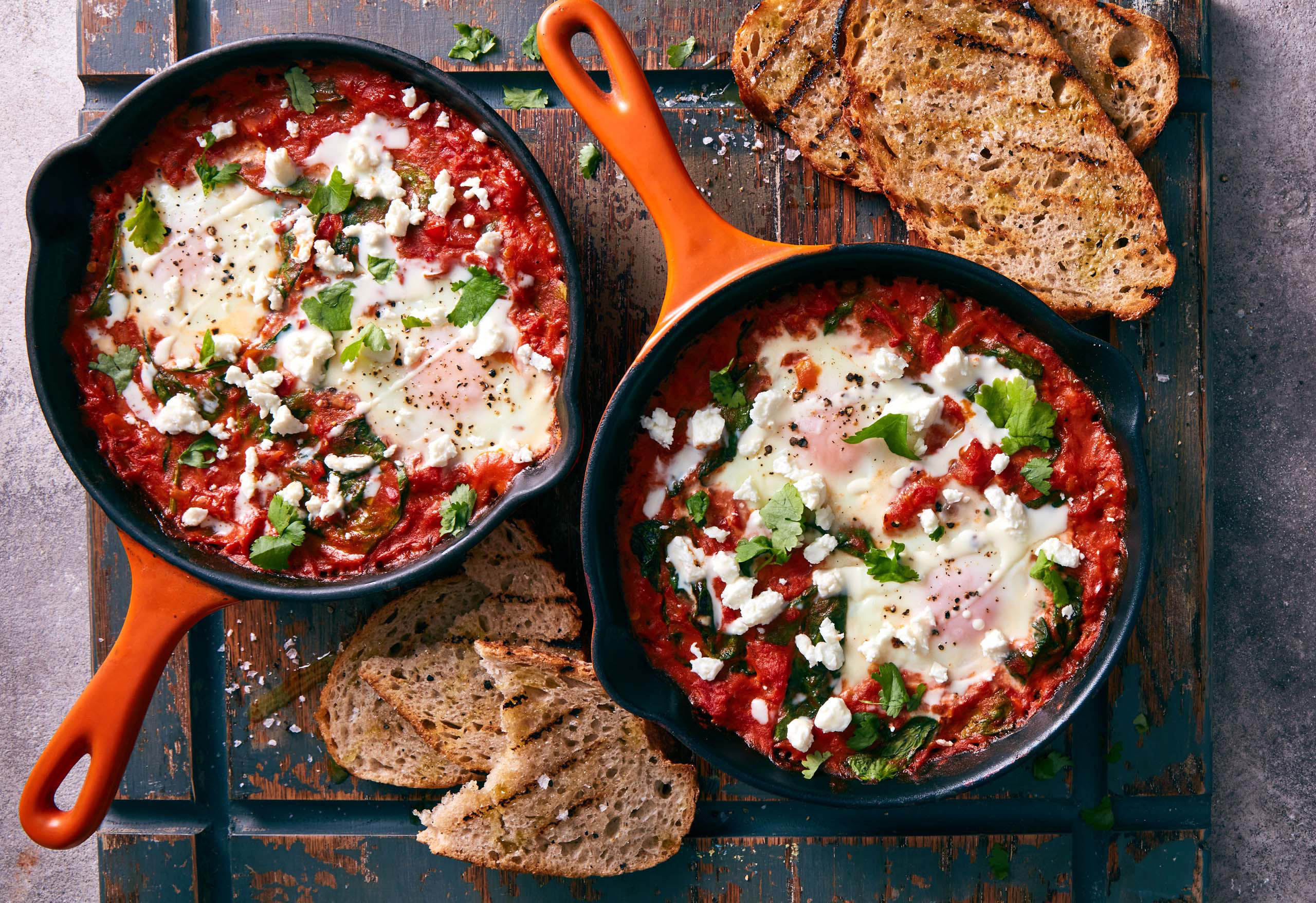 | PREP TIME: | COOKING TIME: | Serves |
| --- | --- | --- |
| 10 mins | 30 mins | 10 |
Ingredients
2 Red onions, diced
1 Chilli, deseeded and diced
2 Garlic cloves, sliced
2 Tins crushed tomatoes
Small bunch of coriander, stalks and leaves chopped separately
80g Spinach, washed
1tsp Caster sugar
Salt and pepper
Red wine vinegar, dash
4 Eggs
40g Feta, crumbled
Half a sourdough loaf, sliced and toasted
Drizzle of olive oil
Method
Melt the Kerrymaid Buttery in a heavy bottomed pan with a lid. Fry onions, chilli and garlic until soft and tender. Add tomatoes and coriander stalks. Cook down for 10-15 minutes on a medium heat.

Add the Kerrymaid Single and stir well. Reduce to required consistency and stir in spinach.

Taste and add sugar, salt and vinegar as required. Make 4 hollows in the sauce and carefully crack in the eggs.

Place lid on pan, reduce heat to low and cook for 4-5 minutes. Check the eggs (looking for a just-cooked wobble and liquid yolks) and remove from the heat. Sprinkle over crumbled feta and season with salt and pepper

Toast the sourdough and drizzle with olive oil, serve with the shakshuka in the pan.
---
TOP TIP FROM OUR CHEF
Optional: Add depth with warm spices like coriander seed, cumin and turmeric. Play with the heat levels in the sauce with chilli varieties, or finish with a generous drizzle of hot sauce.