Kerrymaid's Toad In The Hole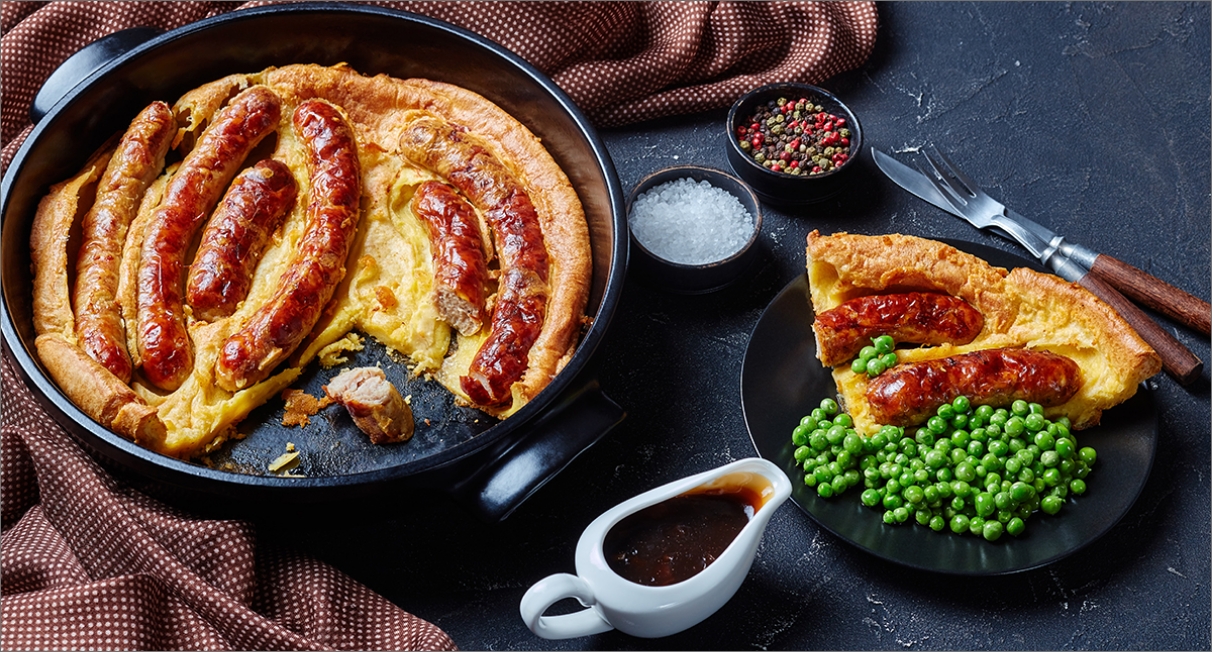 | PREP TIME: | COOKING TIME: | Serves |
| --- | --- | --- |
|   |   | 20 |
Premium Baking Block
Ingredients
40 Gluten Free Chipolatas
500g Cornflour
12 Eggs
600ml Oat Milk
150g Chef's Pass Meaty Gravy
2L Water
3 Onions (sliced)
Method
Make the Pudding Mix:

Blend the Eggs, Cornflour and Oat Milk together until smooth. We add in the eggs into flour first, then add the milk slowly whilst whisking and it keeps lumps from forming. Set aside.

Lay the sausages out in a large tray as evenly as you can (the cheeky little so and so's will roll around, don't worry) and put into the oven.

We want to get these coloured slightly, and get them to produce a little oil in the tray. This will take approx. 5-8 minutes at 180°C.

In the meantime, melt the Kerrymaid Premium Baking Block in a heavy bottomed saucepan and add the onions. Place on a low heat and stir occasionally, until the onions caramelise.

When the sausages are coloured slightly, remove the tray from the oven and immediately pour on the Yorkshire pudding mix. We want the oil in the tray to be hot, so we have to move fast! Ensure the mix doesn't cover the sausages entirely, we want a little peeking out for ease portioning later.

Once poured in, return the tray to the oven for another 15-20 minutes. Keep a close eye on it, as you can take them out once the Yorkshire Pudding has risen and coloured to your satisfaction. Once it is cooked, remove from the oven and set aside under the heat lamps.

Now, to make the gravy, take the pan with the caramelised onions and pour in the boiling water. Add the Chef's Pass Meaty Gravy Mix and whisk in. It will dissolve quickly and easily, so no need for excessive mixing.

To serve, cut out two sausages and plate with the vegetables of your choice, possibly some mash and a large helping of onion gravy.
---
TOP TIP FROM OUR CHEF
Try making with veggie sausages for a no fuss vegetarian option. You will need to add a little fat to the sausage tray before adding the Yorkshire mix, depending on the sausages you use.