Kerrymaid's Slow Braised Beef Stroganoff Pie
This is a great lunch-time option. It's filling and can be served with plenty of iron rich vegetables! The dish can also be served in a large dish in the centre of the table to promote independence and encourage socialisation during meal times. For in-room dining or for better portion control simply serve in individual ramekins or smaller dishes.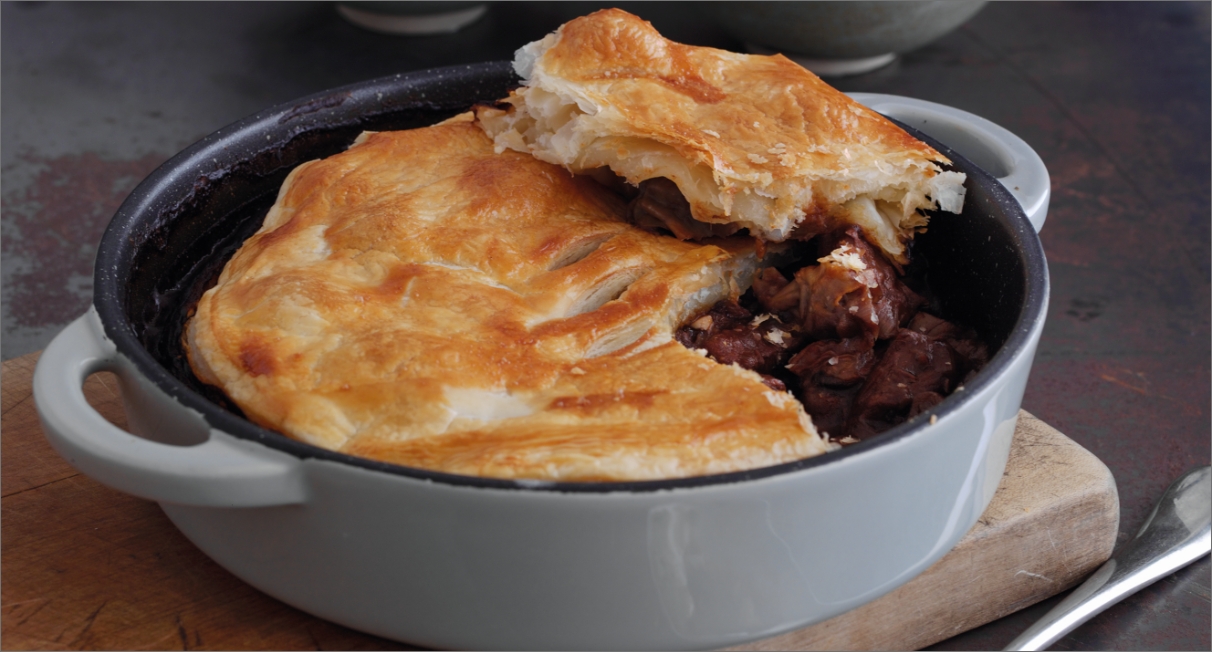 | PREP TIME: | COOKING TIME: | Serves |
| --- | --- | --- |
| 20 MINS | 3 1/4 hours | 22 |
Chef's Pass Beef Bouillon / Double / Premium Baking Block / Buttery
Ingredients
500g Diced Chuck Steak
1 Banana Shallot (diced)
2 Garlic Cloves (minced)
150g Chestnut Mushrooms (finely sliced)
3 Large Gherkins (diced)
1tbsp Smoked Paprika
250ml Chef's Pass Beef Bouillon
Method
Make the pastry and leave to rest in the fridge

For the stroganoff, heat a large heavy bottomed casserole pan with 20g Kerrymaid Premium Baking Block. Add the diced chuck steak and fry until golden, add the shallots, garlic, gherkins and mushrooms and braise until soft. Add the smoked paprika and cook for 5 minutes

Deglaze the pan with the beef stock and braise on a low heat for 3 hours or until the beef is tender. Add the Kerrymaid Double and spoon the mixture into a heavy bottomed pie dish

Roll the puff pastry out to the size of your pie dish. Bake in a pre-heated oven at 190°C until the pastry has puffed up and turned a dark golden brown colour
---
TOP TIP FROM OUR CHEF
THIS DISH IS A GREAT SOURCE OF PROTEIN & IRON FOR RESIDENTS TO HELP MEET DIETARY NEEDS.
Allergens
Contains: Milk, Cereals containing Gluten