Ask Our Chefs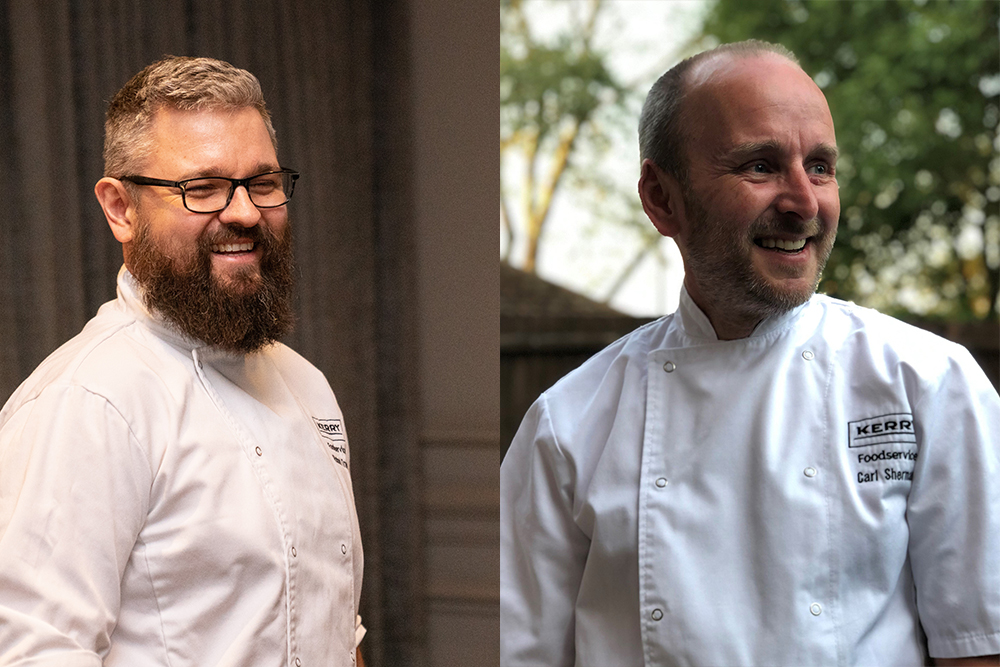 Our expert chefs Richard and Carl have been busy in our development kitchens coming up with innovative and crowd pleasing recipes for you! You can find this under the inspiration section of our website and, of course, if you have any specific questions you'd like to ask them or you'd like some advice just complete our contact form and they'll get back to you shortly!
Here are some examples of how our chefs have helped out other chefs in recent times. With some top tips:
Kerrymaid Whipping for Birthday Cakes
"Hello, I use Kerrymaid Whipping Cream. Is it suitable to use for a birthday cakes and how long it will hold at room temperature?"
Our Chef response:
Hello there,
Now structurally room temperature holding should be 4-6 hours or so, however I wouldn't recommend leaving the cake out in room temperature for more than 2 hours for food safety. It is still a food product and whilst it can be ambient stored unopened, as soon as it is exposed to air it should be treated exactly the same as a normal dairy product.
For best results I would whip the Whipping using a machine and not a foam gun as it droops almost instantly via a foam gun!
Also, I'd recommend holding in the fridge as long as possible, and only bringing out for consumption. For extra hold you could stabilise the cream before applying to the cake with icing sugar, starch or gelling agent.
Good luck!
Kerrymaid Whipping for Birthday Cakes
"I would love to use your Kerrymaid Custard to pipe onto desserts, is it suitable for that kind of thing?"
Our Chef response:
Hi there,
It sounds like you are looking for a crème patissiere like product and a thicker consistency to what our Kerrymaid Custard delivers.
In order to achieve this more structurally sound filling/layering medium, I would advise that you thicken our Kerrymaid Custard up by heating it, adding some cornflour to it, cooking out, and then chilling.
Do let us know how you get on with that!
Kerrymaid Angelito to burn
"Is there anything else I can use my Angelito for aside from delicious ice creams?"
Our Chef response:
Hi there,
Absolutely! If the sun is shining why not try blending the Angelito Ice Cream mix 50/50 with ice and the sauces of your choice to make delicious thick milkshakes ideal for the weather!
Cooking with Buttery
"Kerrymaid Buttery spread is perfect for sandwiches but can I cook with it too?"
Our Chef response:
Hi there,
You can indeed, and it couldn't be easier to take advantage of the delicious buttery flavour. If you are frying onions or sealing a steak, Buttery can be added to the pan just like Butter and help you get that beautiful colour and flavour you would expect. Do bear in mind however, the fat content of Buttery is lower than butter so baking recipes would not be a straight swap. Happy cooking!
Pimp my Hollandaise
"Kerrymaid Hollandaise is delicious in Eggs Benedict, but how else can it fit in my menu?"
Our Chef response:
Hi there,
Just like all the other mother sauces, Kerrymaid Hollandaise (whilst delicious in it's own right) is just the start of a good time. Try adding chopped fresh herbs like tarragon and chervil and serve alongside steak and chips, or blending through well roasted chorizo and serving with firm fleshed oily fish, and a guarantee you will start to see the possibilities!
Salted Caramel Toffee Sauce using Kerrymaid Double
"I would like to know if the level of oils within the cream will de-stabilise it and cause the sauce to split?"
Our Chef response:
Hi there,
It will be fine as long as you don't reduce it too much. If you make the caramel first and then add in the cream in it should work ok.
If it does split out, beating in some more will work, but if you are looking for a really thick sauce you may need to thicken it with cornflour or arrowroot.
Good luck ?
Difficulty Whipping for Desserts using Kerrymaid Double
"I am having difficulty whipping the Double effectively and I would like to know if there is something I am doing wrong?"
Our Chef response:
Hello,
You are not alone with this issue! Firstly, the most important thing to note when whipping up our Kerrymaid Whipping and Double is that they should be chilled for a couple of hours before attempting to whip them up just like fresh cream. Once whipped it will hold it's form for even longer then fresh cream.
Happy Baking!